Riesling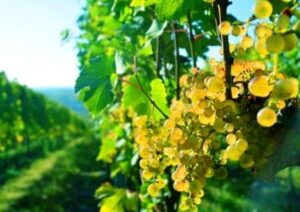 Riesling is a light-skinned aromatic (wines with a fruity and floral aroma) grape of German origin. The origins of the grape can be traced to the middle Rhine and the lower Mosel in Germany, which happen to be Europe's great wine rivers. Recall in the last article, Piesporter can also be traced to the left bank of the Mosel River.
This same wine is produced in the "New World", notably, the Australian Riesling from Australia's Clare and Eden valleys, New Zealand's South Island regions and the famous ice wines of Canada are made mostly from Riesling grape.
Its floral undertones with a hint of honey creates a versatile wine for pairings from appetizers to desserts, poultry, pork, shellfish and almost anything in between. It possesses a medium-dry sweetness and exhibits a medium body, making it the perfect wine with most foods.
Cabernet Sauvignon
Cabernet Sauvignon (often shortened to 'Cab Sav') is one of the world's most widely recognized red wine grape varieties. It is grown in nearly every major wine producing country. It is often referred to as the 'King of Red Wine Grapes', hailing originally from Bordeaux and which has a significant presence in California's wine producing areas. It is rivaled by its Bordeaux 'Merlot' and its opposite contender, 'Pinot Noir'. Favouring warmer climates, it is most successful in Australia, Chile, South Africa and New Zealand. Although, the powerhouse productions are found in France and Italy. A common question asked relates to the difference between Merlot and Cab Sav. The answer is that they are made from different grapes. Merlot is often described as a softer and more supple wine than the Cab Sav. Cab Sav is described as having a bit more backbone and tannic strength than Merlot. One of the most noted traits of Cabernet Sauvignon is its affinity for oak, either during fermention or in-barrel ageing.
Cab Sav is best paired with red meats, flavourful and heartier (red) pastas, in particular,
penne arrabiata
, strong-flavoured cheeses and dark chocolates.
References